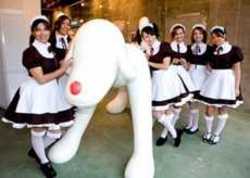 The maid cafe is in U.S.A !
Royal/T in LA is "playful collision of spaces - cafe/shop/art space".
You can even book one of your fav waitress with about $75 (just to chat with her. hey,don't go too far). You also can explore those contemporary Japanese art and culture, such as Takashi Murakami, Yayoi Kusama, etc.