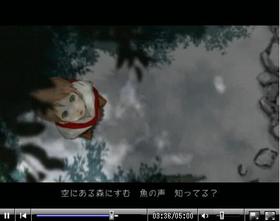 Youtube and Nico Nico Douga are a distinguished popular site, but there is the new site has increased its users steadily in the image good quality.
Zoome The sales point is "a high picture". Because they use a new animation compression technique called "H.264", YouTube can show the animation which is cleaner than the other animation sites.
Like this animation film Sakanano uta, which a girl student of Tokyo Institute of Polytechnics made with graduation project, a high animated cartoon and beautiful music of the completeness called big reputation. Originally it was improved, but an animation can watch the original edition only in zoome.