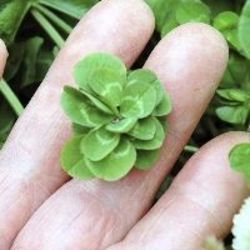 As for the four leaves, happiness, five leaves, the luck with money, the sexfoil, it is fame.
Agriculture Shigeo Ohara (83) of Hanamaki-shi, Iwate studying a clover with much number of leaves discovers the clover of 21 pieces of leaves in a home field. It exceeded 18 pieces of the Guinness record that he had.
The one 27 pieces of leaves was found by his family in this May. When there "should be more things", he intend to shelve application of the record update this time.